You are not signed in
If you wish to buy this item or send a message to the seller, please sign in.
or
Hornet Plugins
SW34EQ MK2
$ 10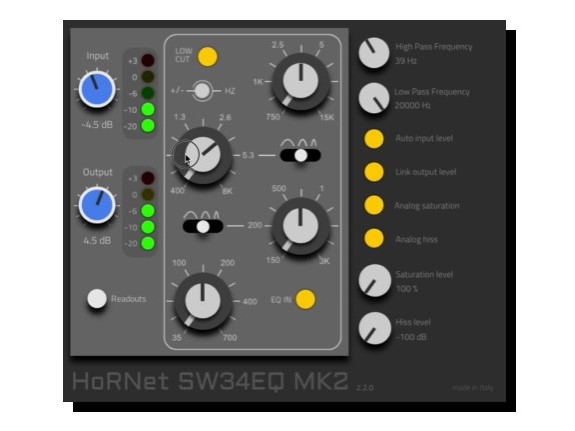 Published on Mon, 18 Sep 2023
by KthgC
Required Info
Full Name - Email
Developer Transfer Info
external link
Licence Type
Registered
Payment Method
PayPal with Buyer Protection
The HoRNet SW34EQ MK2 is an equalizer coming straight from the 80s. It's the digital version of the EQ found in an American console and it features the typical analog EQ sound and controls.
This plugin is specifically modelled after one channel of this console used in the main room of Virus Studio, here in Siena, Italy. This EQ is very smooth and gentle, both in the EQ shapes (bells and shelves) and it's almost perfect for general tone shaping, especially the low shelf gives weight to the sound without pumping it too much.